ERASMUS plus – I nostri partner
Gymnasium Altona, Hamburg, (Germany)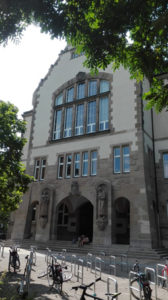 Gymnasium Altona, a lively public secondary grammar school in a multi-cultural part of Hamburg founded in 1882, has 78 teachers, 4 trainees and 1006 students aged 10-19. Many students have a migratory background or are refugees. Classrooms in 3 buildings have interactive whiteboards, we have a library, computer rooms, a recently installed learners' kitchen won by a group of students in a national contest, a cafeteria and a canteen. Subjects taught are German, English, Spanish, French, Latin, Italian, Maths, Physics, Chemistry, Computer Science, Biology, History, Geography, Political- , Socio-Economic Studies, Religion, Philosophy, Psychology, Music, Art, Drama, Media and Sports.
We offer vocational training for chemical technicians which the students complete 6 months after
graduating, a unique offer which attracts students from all over Hamburg. Extra-curricular activities are e.g. Choir, Big Band, Environmental Club. Twice a year we have project weeks involving external players. There are regular student exchanges with Chicago, Sevilla and the French-speaking part of Switzerland. Our students can take part in extra language classes and get the Diploma de Español and the CFC. All 9th graders take part in a 3 week work placement, 10th graders have a 2 week social work placement. After 3 international projects we have noted the huge acceptance among the staff, parents and pupils to take part in such a project and fill it with immense personal effort. For many students the projects were the first chance to get into contact with pupils from other European schools, to work with them/compare ideas, lifestyles and perspectives as our exchanges are always limited to a small number of students. Being funded by the EU also enables students with low income background to experience inter-cultural exchange. Key people in charge of the project will be the coordinator and a team of teachers of various subjects. The coordinator has successfully coordinated three international projects, participated with Drama/English/German classes and is experienced in project management. Teachers involved in this project are first of all experts with respect to their subjects. Most of them are familiar with interdisciplinary teaching, all of them with project work, the integration of it into the curriculum if possible, ICT, evaluation and speak at least one foreign language. Most of them are also familiar with international cooperation because they took part in former Comenius or Erasmus+ projects. We also motivate teacher trainees with little experience to take part in the project. In case the coordinator leaves her post in the future, the second most experienced teacher in international projects will have to take over this responsible task. Some other teachers in the team can be replaced by colleagues with the same subjects. The headmaster cannot always guarantee that one gets the respective class one had in mind to work with on the project at the time of application.
---
Tyska Skolan Stockholm, Stockholm (SWEDEN)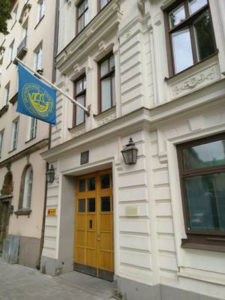 The German School of Stockholm has a history of more than 400 years of education. The ages range from Kindergarten to the German and Swedish international Baccalaureate. At the moment there are 598 students. The school is a bilingual school with German and Swedish as the predominant languages, but there are also many pupils with other backgrounds. At the moment 13 languages are spoken at our school. Foreign languages – English, French and Latin – are as important as the strengthening and development of German and Swedish. Other subjects taught include Maths, Physics, Chemistry, Biology, Computer Science, History, Geography, Socio-Economic Studies, Sports, Music, Art and Drama. Extra-curricular activities include music, vocals, film, an environmental group, dancing, and various clubs, like a library club and a science club. The school offers work placements in Sweden and abroad, students take part in different school exchanges, e.g. with institutions in Germany and the French International School of Stockholm.
Being a bilingual school with students coming from different national backgrounds we have a natural international focus in our work. However, a participation in the Erasmus+ project would be a unique chance to involve more students in activities that are centered around connections with other European countries and deal with European history, presence and future. They could meet with students from other European countries, and work on issues that are crucial to living conditions, their identity and their future. By this, we want to foster a way of "European thinking". As our school houses students from varying socio-economic backgrounds, being funded by the EU also would enable students with low income background to experience inter-cultural exchange on a whole new level.
Key people in charge of the project will be the coordinator and a team of teachers, all experts with respect to their subjects. The coordinator is experienced in the areas of international exchange and intercultural learning arrangements though has not yet worked within an Erasmus+ project. The school participated in a former Comenius project in 2005-2007, yet all the participating students have completed school by now and even most of the staff enrolled is no longer present because of the regular circulation of expatriate teachers. Most of the teachers involved are familiar with interdisciplinary teaching, all of them with project work, the integration of it into the curriculum, ICT, evaluation and speak at least two foreign languages.
---
Escola Palcam, Barcelona (SPAIN)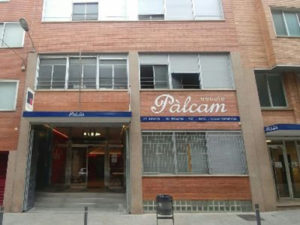 Escola Pàlcam is a semi-private state-funded school in the city centre of Barcelona. It was founded in 1956 as a small school and has been growing ever since in the district of Horta-Guinardó. Nowadays, we have about 1,600 students ranging from Preschool to Baccalaureate and Vocational Training and about 100 teachers. As a school, we have been working for the last ten years in quality processes and we obtained the ISO 9001six years ago. We have also been working on strategic plans for the improvement of the education offered, aiming at foreign languages, technology and values. Our students study robotics since preschool and take about 10 hours a week of subjects in English until they access university. Besides, we have been implementing several measures to ensure that our students get the most of their education.
We have an innovation department that promotes initiatives that will lead to a constant updating and improvement of the methodologies used in class. In the last few years, we have introduced project-based work, cooperative work, flipped classrooms and problem-based learning. We are going to start using tablets and digital materials instead of traditional paper books from grade 5 on. This will allow us to increase and improve cooperative work and our flipped-classroom approaches to achieve a learner-centered type of learning.
For us, international exchanges are also a key element. We have been having exchanges with schools from Denmark, Poland, Germany, England and the Netherlands. Moreover, we coordinated an Erasmus+ project from 2014 to 2016, and we are partners in an ongoing project called Europe- United diversity 2017-2019. We consider these projects an excellent tool to expand our students' horizons. We have a whole team of teachers devoted and committed to these projects as we want to keep giving these opportunities to our pupils. In our team, there are teachers from all the areas involved, and our international projects have become a top priority for them. This project will allow us to join some of the objectives we have as a school into one single project. We will be working at an international level, together with three European schools, exchanging beliefs, perspectives and experiences with them, and raising the awareness of our students regarding the main problems our societies are going through. All of this within a methodologically innovative environment, joining technology and learner-centered approaches. The people in charge of the project will be a team of teachers with wide experience in international projects and exchanges. They will be led by Marc Miret, in charge of International projects at the school. www.palcam.cat